Manipur University Teachers' Association (MUTA), Manipur University organized a One Day Workshop on NEP 2020: Promises and Challenges with Special Reference to Higher Education on the 20th March 2021 at the MUTA Conference Hall.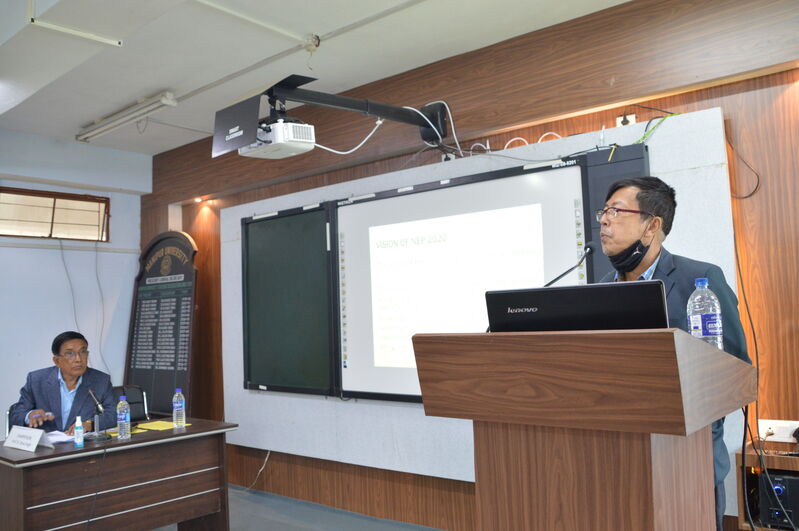 Dr. S. Shantikumar Singh (General Secretary, MUTA) delivered the welcome address. Prof. Debananda S Ningthoujam( President, MUTA) highlighted the Synoptic overview of NEP 2020 Promises and Challengers. Prof. N. Lokendra Singh (Head, Dept. of History, MU) delivered NEP 2020 Improving Governance in Higher Education Institutes, and Prof. Memcha Loitongbam (Director, IQAC, MU) address NEP 2020 Enhancing Quality Education in Colleges and Universities.
In the evening session, Prof. Ch. Ibohal Meitei (Director, Centre for Entrepreneurship and skill Development, MU) address NEP 2020 A Roadmap for Vocational & Skill Education. And Dr. N. Pramod Singh noted the Implication of NEP 2020 in the professional Higher Education Section.
Prof. N. Deva Singh (Retired Prof. Dept. of Geography) and Prof. W. Vishwanath Singh (Former Vice-Chancellor(i/c), Manipur University) have chaired the technical sessions. Prof. W. Nabakumar Singh (Retired Professor, Dept. of Anthropology, Manipur University) chairs the panel discussion and recommendations.