Voluntary Blood Donation Camp held at Manipur University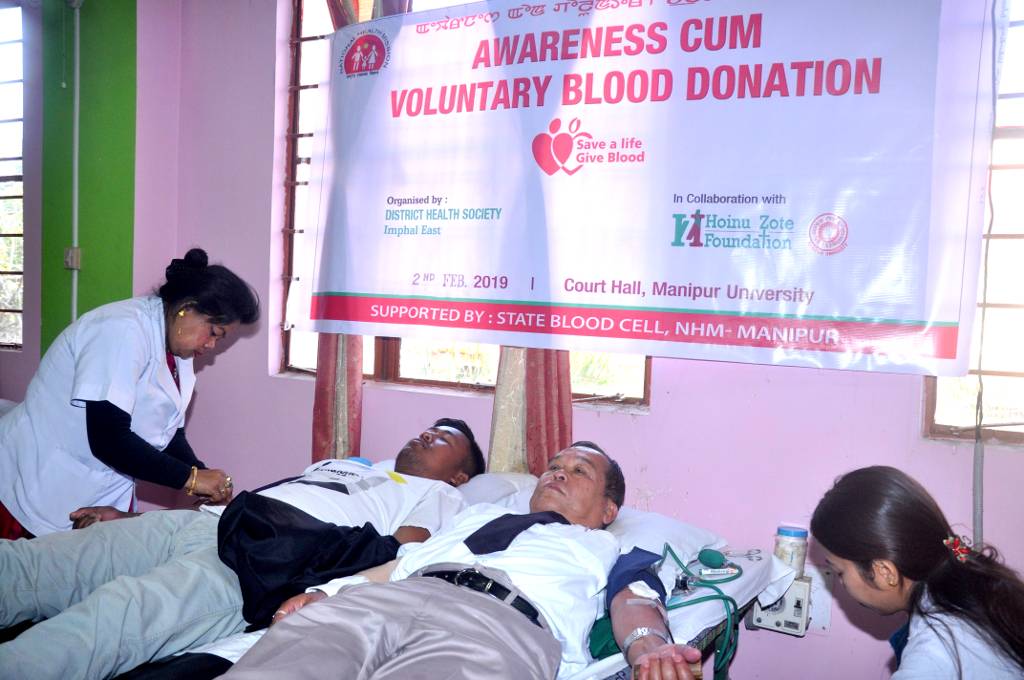 Today (2nd Feb 2019), Awareness Cum Voluntary Blood Donation Camp was held at Manipur University' Court Hall, organised by Hoinu Zote Foundation in association with District Health Society, Imphal East & Manipur University, which was sponsored by State Blood Cell, SHS, National Health Mission, Manipur. The Blood Donation camp was held with a theme to save a life by giving blood, "Give Someone a second Chance, Donate Blood, It's Safe, It's Easy, It Saves Lives".
Dr. Konsam Surjit Singh, Medical Officer, JNIMS, Blood Bank, gives the awareness programme of blood donation. Doctor highlights the voluntary blood donation, amount of blood one can donate, health benefit after donating blood, list of test performed on every donated unit of blood and the responsibilities of blood donor.
Total of 56 donors have donated their blood in the Blood Donation camp. Among them, the Prof Amar Yumnam (VC i/c), David K Zote (Registrar i/c) , Sandhyarani Ningthoujam (Finance Officer) and Dr. RK Joteen Singh (Deputy Registrar - Exam) have also donated their bloods to save life.
VIEW: Photo Gallery (Voluntary Blood Donation Camp on 02-02-2019)