Manipur University, 19/04/2021: A long-pending Court Meeting of Manipur University was held on the 19th April 2021 at the Court Hall of the University. Prof. S. Sanatombi Singha, Vice-Chancellor (i/c) delivered a welcome address, and Prof. T. Tirupati Rao, Chancellor, Manipur University, addressed his speech online. In the meeting presentation and discussion on Annual Report, Annual Accounts, Annual Budget, and Proceedings of the Executive Council (from the year 2015 to 2020) had taken place.
Prof. Manjeet Bansal, Shri Khumukcham Joykishan Singh, Hon'ble MLA, Shri M. Harekrishna Singh, Commissioner of Higher Education, Govt. of Manipur and all the Deans of Schools of Studies along with Dean of Students' Welfare and other members were present in the meeting.
In addition to the above Hon'ble Members of the Court, Prof. O.P. Vyas, Prof. Devsingh Pokharia, Prof. Manu Kataria, Dr. L.R. Chary, Maharaj Sanajaoba Leishemba, Hon'ble MP (Rajya Sabha), Shri Bobby Waikhom, Secretary to Governor of Manipur, Prof. Umarani Pappuswamy were also present in the meeting online.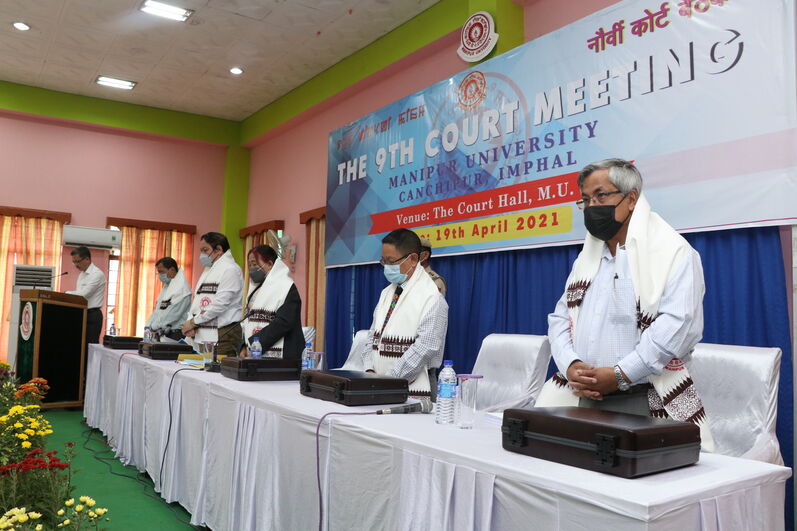 All the members have appreciated the initiative of the Vice-Chancellor and her team for conducting the 9th meeting of the Court after a gap of almost six years.
The Chancellor of Manipur University expressed in his speech the plans and initiatives for the growth and development of the University and for making Manipur University a World Class University. As statements issued by Prof. W. Chandbabu Singh, Registrar, Manipur University.