The two days '1st Korean Studies Workshop for Indian Educators in Northeast India' have been organised by the Department of Foreign Language(Korean), Manipur University and sponsred by Korean Foundation have been inaugurated at Court Hall, Manipur University on 8th November 2019.


The welcome speech of the Inauguration function have been delivered by Jarnail Singh, Aministrator, MU and followed by Prof. Ch. Yashawanta Singh, Dean of school of Humanities, Coordinator of Dep. of Foreign Language, MU. The Introductory speech was delivered by Prof. Hyunkung Lee, Director of the workshop, Visiting Professor by Korean Foundation, Department of Foreign Language(Korean), MU. The congratulatory speech were given by Choi Jongho, Minister, Embassy of the Republic of Korea, Kim Kumpyong, Director - Korean Cultural Centre India and Prof. Vaishana Narang, JNU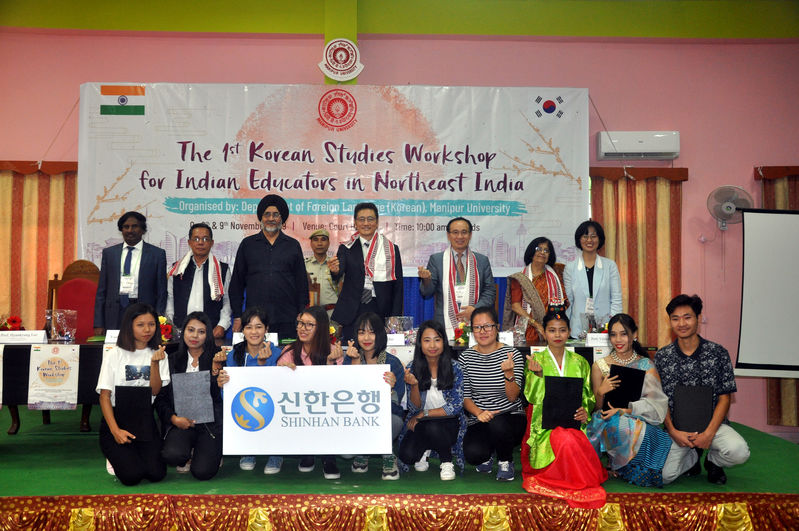 Ten students from Korean Language Course, Dep. of Foreign Language(Korean) have received scholarship distributed by Sinahan Bank. The Students of the Dep. of Foreign Language (Korean) have presented a Korean cultural program called Fan Dance.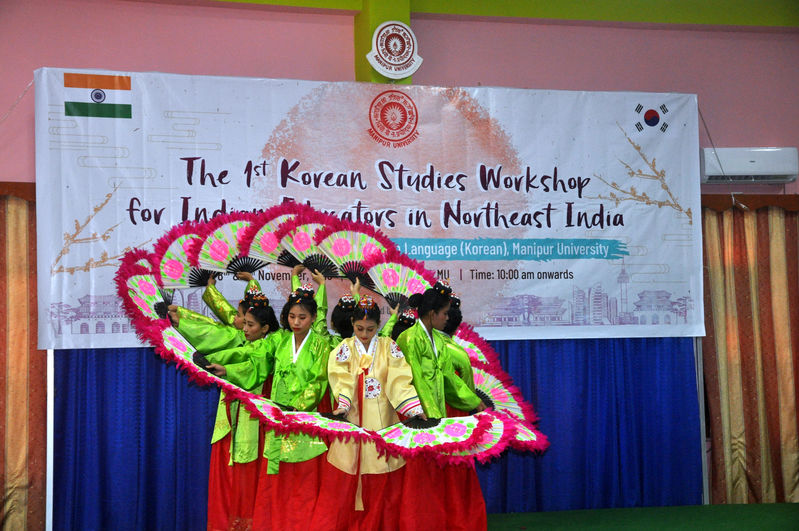 Vote of thanks of the inauguration function was delivered by Dr. Ahanthem Romita Devi, Assistant Professor, Dep. of Foreign Language (Korean), MU.


In the first day of the workshop, Key note speech - Economic Aspect was delivered by Choi Jong-ho, Minister -Counsellor, Embassy of the republic of Korean. Key note speech - Cultural Aspect was also deliver by Kim Kum-pyong, Director, Korean Cultural Centre, India. In the First session "Relationship of the culture, History and Polotics between Korean and India" chaired by Dr. Hyunkyung Lee. Prof. W.Chandbabu Singh, MIMS, Registrar i/c, MU present the paper 'Cross cultural communication and interpersonal relationships'. Dr. I Gambhir Singh, Associate Professor, Dept. of English, MU present 'Microteaching for effective English Communication". Dr.M.Hemanta Meitei, Associate professor, Dep. of Economics, MU paper on 'Economy of south Korean: An Appraosal'. 'Guidelines to open certificate and diploma course of foreign languages in universities and colleges' is presented by Dr. Salam Shantikumar Singh, Assistant Professor, Dep. of Statistics, MU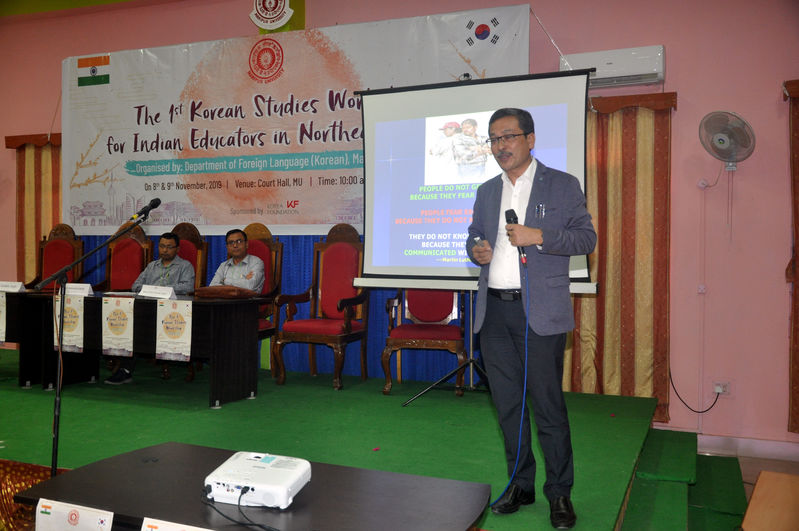 The second day of the workshop will on open with the opening ceremony of KCAC at the Court Hall, MU on 8th November 2019. Prof. Vaishana Narang, JNU will deliver the key note speech on lnguage learning and teaching methodology. The Second session: 'Languages learning and teaching methodology' chaired by Dr.Ahanthem Romita Devi. The Second session have paper presentation on 'Teaching and learning f Japanese Language in th North east with special reference to Manipur' by Ph.D. Nanda Kumar Sharma, Guest Faculty(Japanese), Dept. if Foreign Language, MU. Dr. SJ Neethiranjan, Regional Director, IGNOU, Regional Centre, Imphal will deliver the 'Role of IGNOU in higher education'. Dr.Deeshikha Misra on 'Teaching Korean Vowels to Hindi speakers: A Study of acoustic space in contrast'. Avi Tepa, Guest Faculty(Korean), Korean Culture and Arts Centre, Imphal will present the paper on 'a study on suitability of the Jawaharlal Nehru University Testbooks for Teaching Conunctive Ending" Focusing on the Beginner Level learner and Their Performance in the Korean Proficiency Test'. After lunch Prof.Ch.Yshawanta Singh will deliver the key note speech on Comparative Study between Korean and Manipur. Then the third session of the workshop theme on Korean Learning and Teaching will be chaired by Dr. Minjai Park