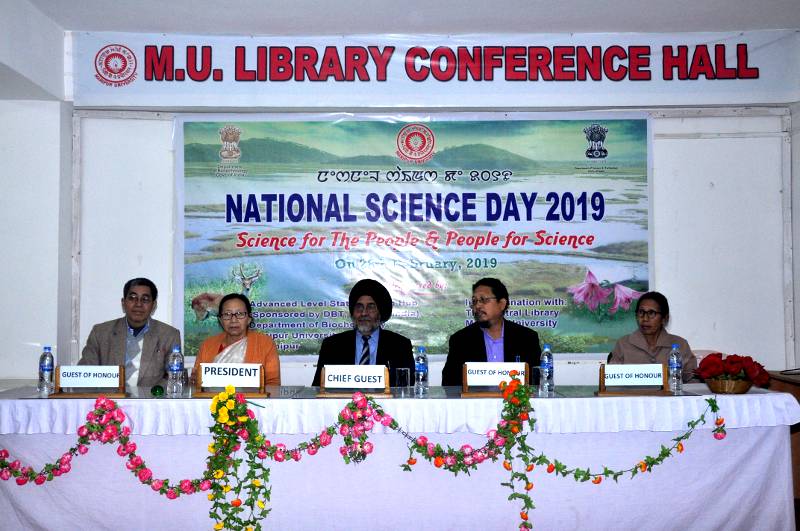 Manipur University Celebrate National Science Day 2019
Advance Level State Biotech Hub, Department of Biochemistry and Department ofLibrary & Information Science, Manipur University jointly organised the celebration of National Science Day 2019 on February 28, 2019 at Conference Hall of the Library, Manipur University, with the theme "Science for the People and the People for Science".
The celebration function was graced by Jarnail Singh (Administrator & VC, MU), Prof. Th Madhuri Devi(Librarian i/c, MU), Prof. G.A. Shantibala Devi (Dean, School of Life Sciences, MU), Prof. S. Dorendrajit Singh (Department of Physics, MU) and Mr. Dilip Mayengbam (Director, AIR, Imphal) as Chief Guest, President and Guest of Honour respectively. Prof. Debananda S. Ningthoujam gave the welcome address. Prof RK Gambhir Singh & Prof Ch. Yashawanta Singh gave the invitee speech.
National Science Day was celebrated across India on every February 28. Since 1987, Indian scientific Community have celebrated the National Science Day as a remembrance of CV Raman's contibution to science. Notably, the Famous Indian scientist Sir CV Raman discovered the Raman Effect on 28 February 1928. Sir CV Raman was awarded the Nobel Prize in 1930 for his discovery.