Manipur University, 11/09/2019: Today, Department of Physics, Manipur University celebrated the Foundation Day of Physics Department at the Physics Auditorium.

Jarnail Singh (VC, MU), Prof. C. Amuba Singh, Prof HNK Sarma, Prof RK Gartia, Prof Th. Jekendra Singh and Prof.Ng.Nimai(HoD, Physics) take the chairs on the dais as Chief Guest. Guest of Honors and President respectively. The Dignitaries were honored with badges and Langyenphi

After the dignitaries take the chairs, Students of MSc Physics I and II Semester presented the Opening Song. Prof. Ng Nimai (HoD of Physics & President of Today's function) deliver the welcome address cum Theme of the Foundation Day Celebration. In his speech he vowed to conduct the quiz competition in the coming foundation functions. And Prof. Ng Nimai have mentioned that the foundation day was celebrated in the month of September every year since 1978.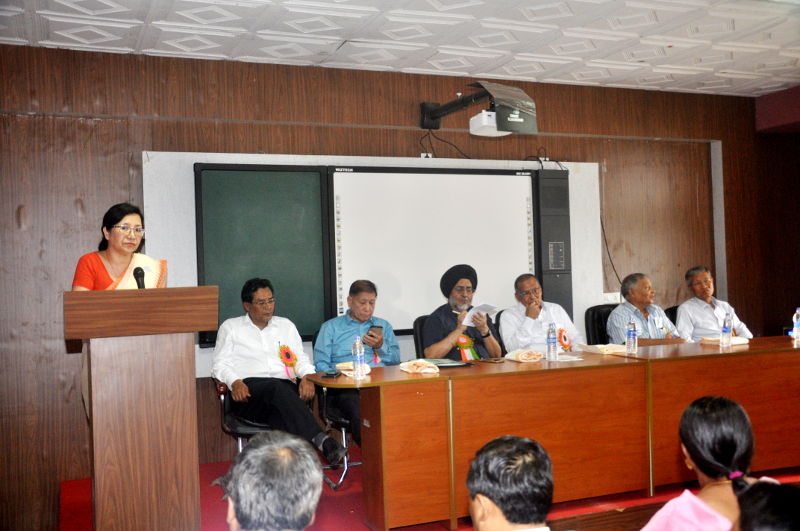 Prof. Sumitra Phanjoubam gave a brief journey of the Department since its inception. She had mention the unforgettable experiences, achievements and opportunities faced during the tenure with Prof. C Amuba Singh, Prof. HNK Sarma, Prof. RK Gartia & Prof. Th. Jekendra Singh. A two-minute silence is also observed as part of Celebration function. Felicitation of retired Teachers with Gifts on stage by the Chief Guest Sri Jarnail Singh. Felicitation of retired non-faculty members by Prof. K. Yugindro Singh (Senior Most Professor of the Department). The celebation function was continued with the Speech by Chief Guest, Sri Jarnail Singh, Administrator/VC of Manipur University and speeches by the four Guests of Honors. The main programme of the celebration is the launching of the Manipur University Physics Alumni Association by students. The programme was concluded with the Vote of Thanks given by Prof. S. Brajamani Singh