NSS Cell MU organised the festival State Youth Parliament 2019
Date 11 Feb 2019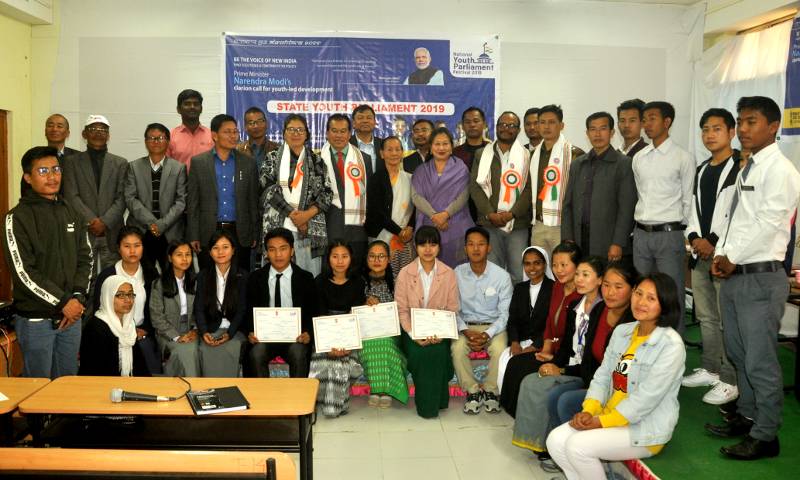 The National Service Scheme(NSS) Cell, MU organised State Youth Parliament 2019 at the Department of Education (New Social Science Block), Manipur University Canchipur on 11th February 2019.
Prof. Amar Yumnam (Director, Centre for Study of Social Exclusion and Inclusive Policy, Manipur University), Jackie Ruiva(Director, NYKS Govt. of Manipur) & Seiminthang Lenthang (State NSS Officer, Govt. of Manipur) grace the festival as Cheif Guest, Guest of Honour & President
The registration of the participants start from 8:30 A.M. to 9:30 A.M. At 9:45 am the participants & Volunteers were assembled. The function was started from 10:00 A.M. onwards after the arrival of the Dignitaries and Jury members. And followed the badging and lengyanphi presentation to the Dignitaries & Jury Members. The Dignitaries have performed the candle lighting ceremony.
Dr. K.Shitaljit Singh, Programme Coordinator, NSS Cell Manipur University give the keynote speech regarding the said festival.
And the Speech were followed by Guest of Honour, Chief Guest and the president.

The festival have lottery for presentation, starting parliament, speech by Jury Members. Then at 12:30 PM the result were declared and certificate were distributed.