17.11.2022 ( Thursday): The Department of Zoology organised an Induction programme for the newly admitted Students of MSc Zoology.
Manipur University, 13.07.2022: The Dean, School of Life Sciences Prof. R. Varatharajan organised a reception function for the Faculty members and Guest faculties of the four Departments i.e. Biochemistry, Biotechnology, Botany and Zoology. Over a cup of tea, introductions of all assembled were made and there were discussions on various passed achievements and new targets. Altogether 35 members were present.
21.06.2023 ( Tuesday): In relation to awareness of Drug abuse Shri Rakesh Chandra Shukla, Zonal Director, Narcotics Control Bureau, Guwahati zone and Shri k. Meghachandra, Superintendent of Police (Narcotics) spoke on various aspects of narcotic drugs and psychotropic substances today at 1 pm in the department of Zoology. Prof. R. Varatharajan, Dean, School of Life Sciences gave the closing remark and Prof. N. Mohilal gave the introduction.



Summer Camp - International lecture series on health care ( 20th to 27th June, 2022)
Organised by the Department of Life Sciences (Zoology) and inaugurated on 20.06.2022. During the Inaugural function Prof. R. Varatharajan, Dean, School of life sciences and Prof. N. Mohilal, Head, Department of Life Sciences (Zoology) were present. Dr Sivakumar introduced the Speakers. The Summer camp was organised to Kindle interest and create awareness of biomedical research among the graduate and post-graduate students of Biological Sciences. In today's program Dr Narasimman Gurusamy, Department of Bioscience Research, University of Tennessee Health Science Centre, Tennessee, USA spoke on " Autologous Stem Cells Therapy for human diseases" and Dr Noohu Abdullah Khan, King Khalid University, Kingdom of Saudi Arabia spoke on " Effective use of medications and environmental safety".
SUMMER CAMP: One Week Lecture Series on Health Care (For Students of Biological Sciences) (15th – 25th June 2022; 9 am to 11 am) [pdf]
13.06.2022 ( Monday): Dr Pramod Kumar Pandey, Director, ICAR-Directorate of Cold Water Fisheries (DCFR), Bhimtal, Uttarakhand interacted with the Students of MSc Zoology at 10.30 am, today the 13th June 2022 on the prospects, challenges and opportunities in Research in Coldwater Fisheries.
23.05.2022: UG Board of Studies, Department of Life Sciences (Zoology) held in the hybrid mode (Online & Offline).

20.05.2022: Prof. N. Mohilal Meitei, Head, Department of Life Sciences (Zoology) participated as Guest of Honour in the first-ever Buffalo Mela cum technological awareness at New Tusom, near Myanmar border, Ukhrul district. Immunization of the Buffaloes was the main highlight of the program. The program was organised by Apunba Imagi Machasing & Village development Council, New Tusom under the sponsorship of the Department of Veterinary and Animal husbandry, Government of Manipur.

17.05.2022: Signing of MoU on the 17th of May, 2022 at Committee Room, Manipur University, with GIZ, Germany and Manipur University in connection with NERAQ Project, where it will be collaborating on Sustainable Utilisation of Aquatic Resources of Manipur especially capacity building and livelihood related issues. GIZ, Germany, was represented by GIZ Advisor for Manipur State, Dr. Inaotombi Saikhom as a witness while Manipur University was represented by Prof. W. Chandbabu Singh, Registrar, MU in the presence of Hon. Vice-Chancellor Prof. N . Lokendra Singh. Prof. R. Varatharjan, Dean, School of Life Sciences, Prof. N. Mohilal Meitei, HOD, Department of Zoology, Dr. Rameshori Yumnam, Asst. Professor (S-2), Department of Zoology were present as witnesses.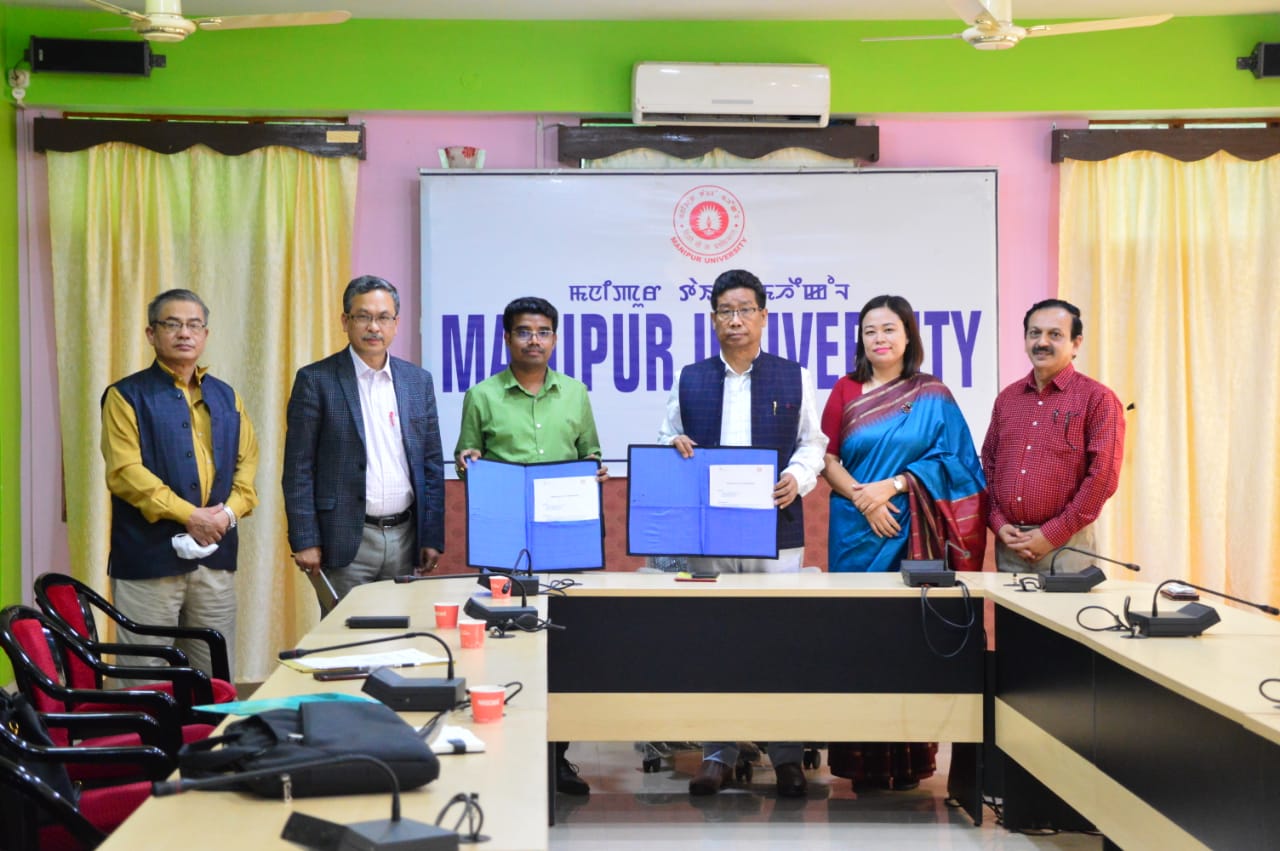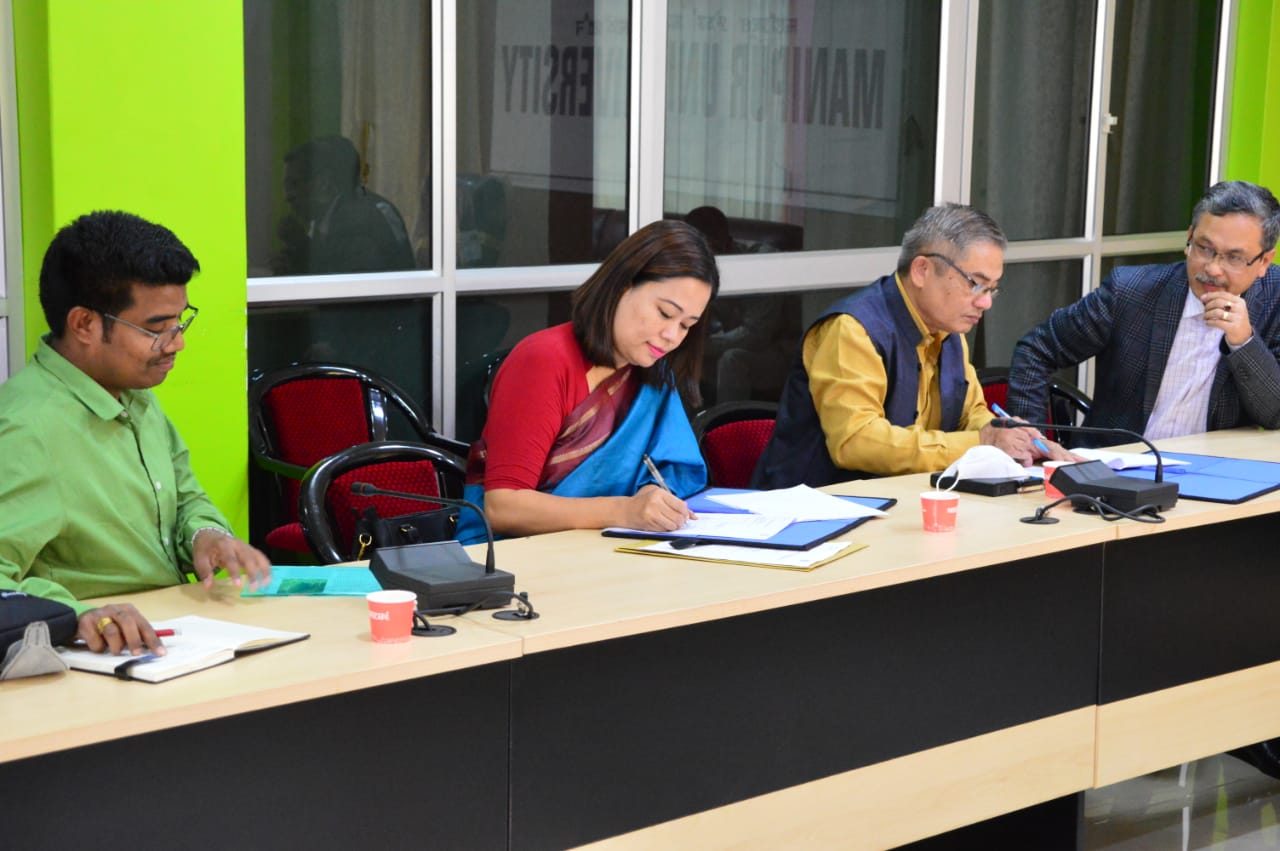 17.05.2022: A Talk on furthering collaborative research between Japan and Manipur: roles of Showa Pharmaceutical University & Manipur University specially in the field of cultivation and analysis of medicinal plants was held today at 11.30 am in virtual mode. Manipur University was represented by The Hon'ble VC Prof. N. Lokendra Singh, the Dean of Life Sciences Prof. R. Varatharajan, Prof. N. Mohilal, Head, Dept of life sciences ( Zoology), the Registrar Prof. W. Chand Babu & Dr. Birla of Zoology. Showa Pharmaceutical University was represented by Prof Motoyoshi Satake, Dr. Akihito Takano, Dr. Takahisa Nakane. Others who joined the interaction are Dr. A. Guneshor Sharma, Director, Ayush, GOM & member secretary, Manipur medicinal plants board; Mr Agatsuma, Chairman, APOP, Tokyo; Mr. TeruakiWatanabe , Director, TMH Green (India) Pvt Ltd & Research Scholars of Zoology.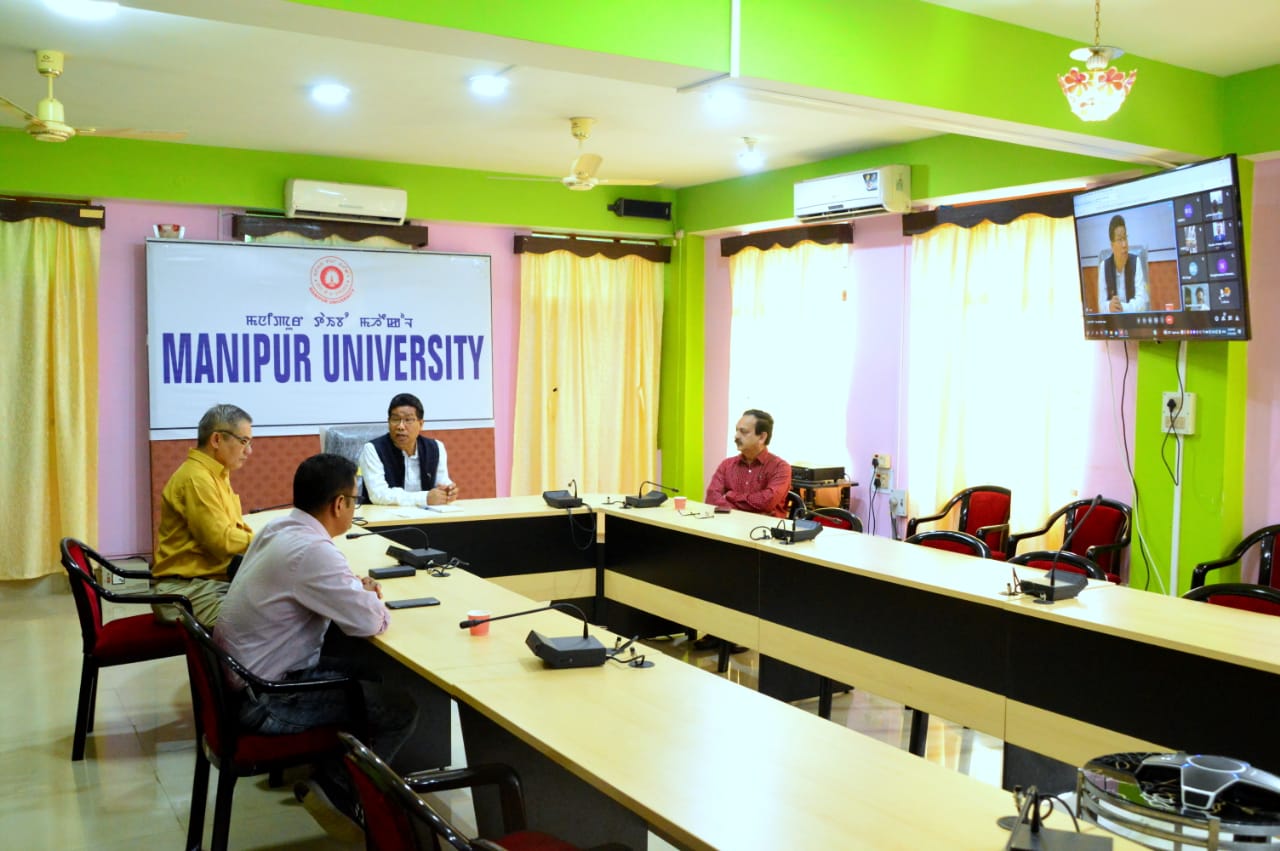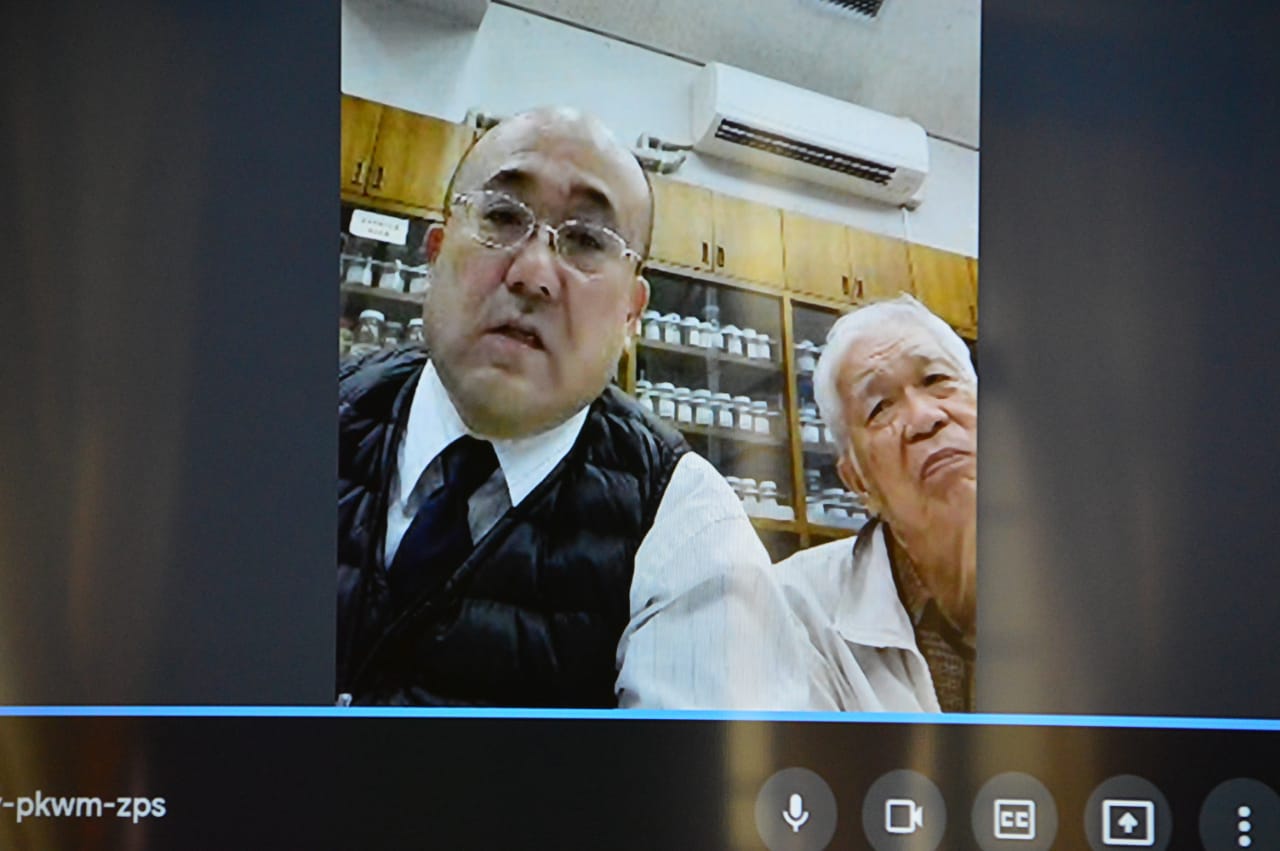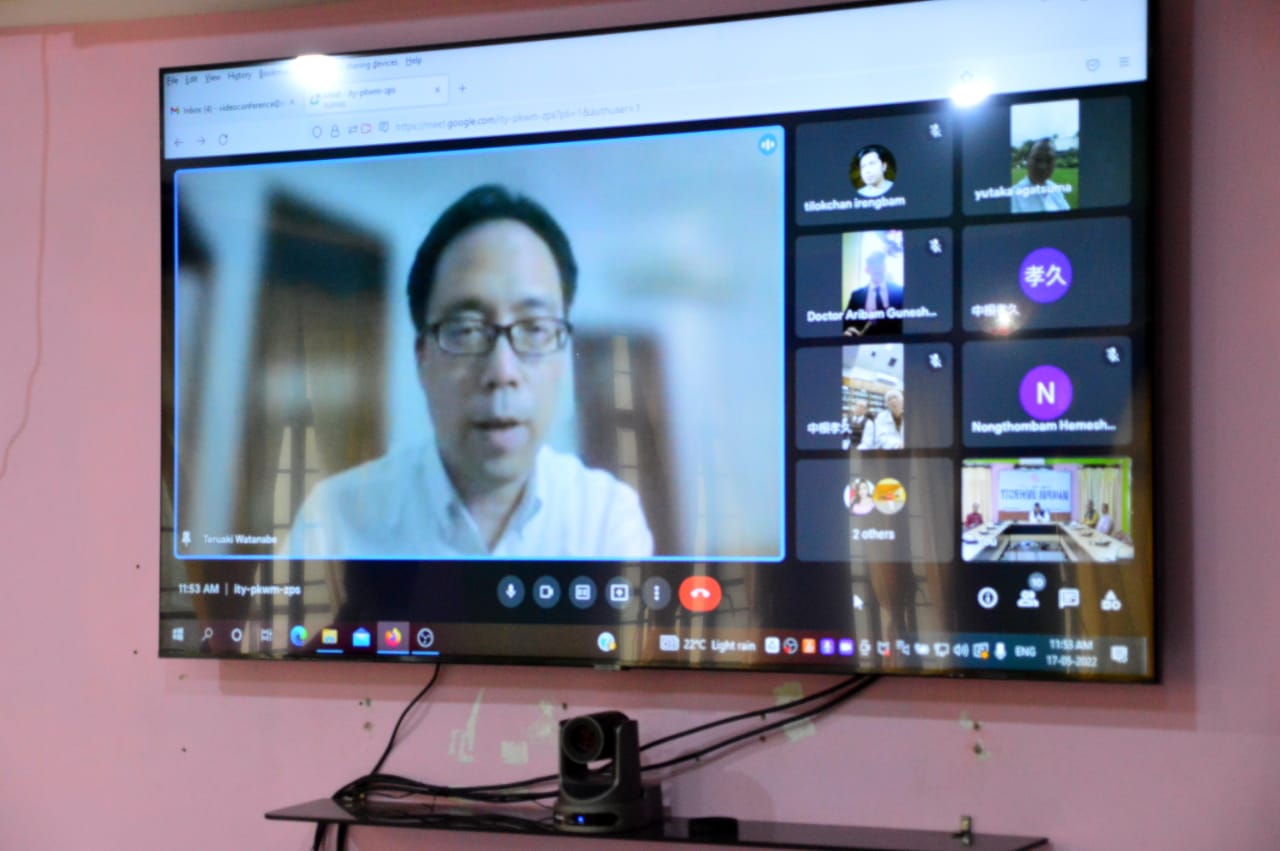 16.04.2022 (Saturday): A Farewell cum Felicitation Program was held at 11.30 am on Saturday, the 16th April 2022 in the conference hall of Life Sciences. Prof. W. Vishwanath was also felicitated for his appointment as a Member of, the National wetlands Committee, Government of India. In today's function Prof. Vishwanath, former Dean of Life Sciences & former Vice-Chancellor(i.c.), MU and Mrs Ch. Anandi, the Technical staff of life sciences were given a farewell by the Life Sciences fraternity. Lifetime achievements and services rendered by the retiring members were recounted in the function. Prof. G A Shantibala and Prof. R. Varatharajan presided over the function. Prof. R. Varatharajan during his presidential speech reminded the gathering about the services rendered by the retiring members. He said that Prof. Vishwanath shall always remain a role model for the life sciences fraternity & sought his kind helps & advice in future also. Prof. Damayanti, Simon, Dr Rameshori, Prof. Gambhir, and Prof. Mohilal spoke on the occasion. Dr Birla gave the vote of thanks & Dr Himika Salam was the master of the ceremony.
06.04.2022 (Wednesday): The MSc Zoology third semester Students organised a Freshers meet today in order to welcome the first semester students. The program was presided by Prof. N. Mohilal Meitei, HOD, Zoology. Prof R. Varatharajan, Dean, School of life sciences was the Chief Guest, Prof GKN Chettry, Dean, School of Agricultural Sciences and Prof M. Damayanti, HOD, Botany attended as the guests of honour.
Date 28.03.2022 ( Monday) 8:00 AM: Beekeeping training for MSc first semester students held at the Zoology classroom. The trainer is Shri H. Rajen Kumar Singh, State Awardee from Jiribam.
Manipur University, 22/03/2022: "Jal Jeevan Mission is the need of the hour". It was stated by Dr Rajkumar Ranjan Singh, Minister of State, Ministry of Education and External Affairs, Government of India during the observance of World Water Day 2022 at the Department of Zoology, Manipur University. The Program was organised on 22nd March 2022 at 1 pm by the Department of Zoology, Manipur University and Apunba Imagi Machasing (AIMS), Manipur under the theme, "Understanding the Water Crisis in Manipur". Guests of Honour of the event are Prof. Amar Yumnam, Former Vice-Chancellor (i/c), Manipur University; Dr H. Birkumar Singh, Senior Principal Scientist, CSIR-NEIST, Imphal; Prof. N. Mohilal, Head, Department of Zoology, Manipur University and Dr Homen Thangjam, Indira Gandhi National Tribal University Regional Campus Manipur (IGNTU-RCM), Makhan, Manipur. It was presided by Prof. R. Varatharajan, Dean, School of life sciences, Manipur University. The programme commenced with a welcome address by Mr Mayanglambam Khelendro Singh, President, AIMS, Manipur and the Keynote Address was delivered by Dr Atom Sunil Singh, Director, AIMS, Manipur.
Resource Persons during the event include Dr Wazir Alam, Assistant Professor, Department of Environment and Forest, Manipur University; Dr W. Roshan, Environmental Engineer, Manipur Pollution Control Board, Government of Manipur and Mr Thokchom Thoiba, Adviser, AIMS, Manipur and the programme was concluded with a vote of thanks by Mr N. Ratan Meetei, Director, AIMS, Manipur.
Due to the abundance of water on its surface, our planet is called the Blue Planet, composed of 75% water. There is only 1% of the total fresh water on earth that can be utilized.
Manipur's water crisis is not an exception. PM Modi's Jal Jeevan Mission seeks to provide clean tap water to every home by 2024. Hopefully, this mission will help Manipur in its water crisis
commented Dr Ranjan during his Chief Guest speech, which he delivered online from Delhi.
Massive deforestation due to anthropogenic factors including jhuming, poppy plantation, population growth etc. has taken place in the catchment areas of different rivers of Manipur. Because their forests' covers have dwindled, topsoil erosion has resulted in the shallowing of river beds, which ultimately have almost dried the rivers. The lowering of the Water table and disappearance of water bodies that are Flood reservoirs and sources of water during lean seasons have ultimately made Water scarce in Manipur. It is time for us to rethink our approach to restoring freshwater in Manipur. In spite of being one of the wettest places in the world, water is still a problem in Manipur. Water harvesting technology, Water budgeting and Water policy in Manipur are lacking. The sitting recommends the implementation of the above and also suggests a Workshop for arriving at an in-depth policy toward solving Water Scarcity in Manipur.
Manipur University, 16/03/2022: Signing of the MOU on research and academic cooperation between Manipur University and ICAR - DCFR. The MOU was signed by the Registrar, Manipur University and Director, ICAR-DCFR in presence of the Hon'ble Vice-Chancellor, Manipur University for collaboration of research and academic exchange, especially in the field of fisheries. [SEE MORE PHOTOS] [SEE MORE INFORMATION]

Date 25.02.2022: The Biodiversity, Ecology and Environment network, Manipur ( BEE NET, Manipur) formed in 2007 in Manipur University was founded with the objective of a holistic approach to Biodiversity conservation and environmental protection in Manipur. Under the theme "Towards greener Manipur", the Organisation had initiated Tree plantation programs and environmental awareness campaigns in different districts of Manipur during 2007-2010. Besides, it published occasional research papers, policy statements, books and a biennial newsletter called BeeNews.
On its 15th foundation day i.e. 25th February 2022(Friday), one day conference on understanding the Loktak lake was organised at 11 am at the Court Hall, Manipur University. Prof. P. Kumar Singh, retd Professor, Ethnobotany and Plant physiology lab, Centre of advanced study in life sciences, Department of Life Sciences, MU and Prof. N. Mohilal Meitei, Head, Department of Zoology, Manipur University & Vice- President, BEE NET Manipur were the praesidium members. Shri S. Bhubon Singh, Secy, BEE NET Manipur gave the welcome and introductory speech. Dr Rajiv Kangabam, Manager, BRTV, KIIT technology business incubator, KIIT University, Bhubaneswar was the main speaker and he spoke on "Human footprints on the Loktak lake".
Dr Ksh. Birla Singh, Associate professor, Dept of Zoology, MU, one of the panellists discussed the points put by the speaker with inputs on conservation steps of the lake. Dr N. Sanatomba Singh, assistant professor, department of Manipuri, MU, the other panellist during his observation provided inputs into the folklores & stories associated with the lake. A vote of thanks was proposed by Dr Ng. Jasanta Singh, head, dept of Pol. Sc, Pole Star college.
Date 25.02.2022: Meeting of the Board of Studies, School of Life Sciences, MU at the Conference hall, Life Sciences building.
Date 22.2.22: Cleaning of the temporary animal rearing rooms in the old Commerce department, Old Social Sciences block, MU by Research Scholars.
Date 13.02.2022 (Sunday): Cleaning of the bushes around the Life Sciences complex
Date 22.01.2022: Farewell function of MSc life sciences (Zoology) Students,2021 in Department of Zoology, Manipur University organized by MSc. Zoology third semester Students.


Date 22.12.2021: Induction Programme of the newly admitted Students of MSc first semester in Zoology and Botany.
Date 16.12.2021: Dr Priyokumar Keisham, Consultant physician, Advanced speciality hospital and research centre, giving a talk in the Department of Zoology at 1 PM on Thursday, December 16, 2021


Date 16.12.2021: Closing function of the Refresher course in Life Sciences 3 rd to December 16 2021
Chief guest: Prof. Pulok Kumar Mukherjee, Director, IBSD
Guest of honour: Prof. L. Rupachandra Singh, Dean, School of life sciences
President : Prof. Homendra Naorem, Director, HRDC, MU
Date 3.12.2021: Inaugural session of the Refresher course in Life Sciences, 3 - 16 December 2021 organized by UGC - HRDC, Manipur University on "New Tech for a healthy body and mind" under the UGC theme" Learning outcomes and competencies".
Date 24.11.2021: Interaction program with Dr Raghumani S. Ningthoujam, Scientist G, Chemistry Division, Bhabha Atomic Research Centre, Mumbai on the theme' Nanomaterials and their application in Life Sciences at the Zoology Classroom of the Departments of Zoology and Botany, Manipur University.
* Date 29/10/2021: Surveillance during the online examination of MSc II Semester ( Zoology).
* Date 27/10/2021: Field study tour of the Students of Animal Physiology specialization of Zoology department, Manipur University at Churachandpur.
* Date 24/10/2021: Scenes captured through Camera lens during the Entrance test for MSc first semester in Zoology on October 24 2021
Date 16/10/2021: Offline and Online Defending of PhD work in Department of Zoology, MU by Thang Johnson, under the supervision of Prof. R. Varatharajan today, October 16, 2021. The external examiner participated via virtual mode. Researchers from Mizoram, Imphal, Tirunelveli, Bangalore, etc., also joined the Viva online.
* Date 14/10/2021: Research Scholars S. Sushilkumar Singh and S. Mexico Singh are getting ready for an extended field trip to Jiribam, Tipaimukh and Senvon village on October 14, 2021
* Date 12/10/2021: Release of a young monocled Cobra rescued from NH2 near Mao in Manipur University Campus after blood sample collection on 12.10.2021 by the Research Scholars of Zoology
* Date 01/10/2021: Tree Plantation programme on 05/10/2021 connected with WORLD TEACHERS DAY.
TOPIC
ORGANIZER
DATE/S
DETAILS
REGISTRATION
REMARK
Talk on COVID-19 (TOC-2021) Series-11:
Topic: Role of Exercise on Healthy Living During Pandemic
Departments of Zoology & Botany(Life Sciences)
Manipur University, Canchipur
Date: June 12 (Saturday), 2021
Time: 4pm
Details
Meeting Link
UGC STRIDE Online Workshop On MANIPURI SANSKRITIDA SANKIRTANA
Manipur University
UGC STRIDE COMPONENT - 1
Canchipur – 795003
June 9, 2021
Time: 2 PM
Details
Register Link
"Talks on COVID-19" TOC-2021: Series-10 Topic: Interaction on Common Urological Problems during Covid -19 Lockdown
Departments of Zoology & Botany(Life Sciences)
Manipur University, Canchipur
Date: June 5 (Saturday), 2021
Time: 4pm
Details
Meeting Link
"Talks on COVID-19" TOC-2021: Series-9 Topic: Experience Sharing on COVID-19
*Talks will be in Manipuri*
Departments of Zoology & Botany(Life Sciences)
Manipur University, Canchipur
Date: June 3 (Thursday), 2021
Time: 4pm
Details
Meeting Link
"Talks on COVID-19" TOC-2021: Series-8 Topic: The Evolution of Clinical Dentistry and Dental Education during the Ongoing Covid-19 Pandemic
Departments of Zoology & Botany(Life Sciences)
Manipur University, Canchipur
Date: May 31 (Monday), 2021
Time: 4pm
Details
Meeting Link
"Talks on COVID-19" TOC-2021: Series-7 Topic: Sequencing of Viral Genomes-How it's helpful in SARSCOV-2
Departments of Zoology & Botany(Life Sciences)
Manipur University, Canchipur
Date: May 29 (Saturday), 2021
Time: 4pm
Details
Meeting Link
"Talks on COVID-19" TOC-2021: Series-6 Topic: Laboratory Diagnosis of COVID-19
Departments of Zoology & Botany(Life Sciences)
Manipur University, Canchipur
Date: May 28 (Friday), 2021
Time: 4pm
Details
Meeting Link
"Talks on COVID-19" (TOC-2021) Series-4: ( Special Talk ) Topic: Remote Sensing for Forest Resources and Environmental Monitoring
Departments of Zoology & Botany(Life Sciences)
Manipur University, Canchipur
May 25 (Monday), 2021
Time: 6.30 PM
Details
Meeting Link
"Talks on COVID-19" (TOC-2021) Series-3: Topic Imaging Brian Devolvement in Health and Diseases: Implications for Impact of COVID-19
Departments of Zoology & Botany(Life Sciences)
Manipur University, Canchipur
May 24 (Monday), 2021
Time: 6.30 PM
Details
Meeting Link
"Talks on COVID-19" (TOC-2021) Series-2: Special Talk in Commemoration of "World's Biodiversity Day"
Topic : Biodiversity: Conceptual Background and its significance in North East India
Departments of Zoology & Botany(Life Sciences)
Manipur University, Canchipur
May 22 (Saturday), 2021
Time: 6 PM
Details
Meeting Link
"Talks on COVID-19" (TOC-2021) Series-1 Topic: SARS-CoV-2 Variants and Available Vaccines
Departments of Zoology & Botany(Life Sciences)
Manipur University, Canchipur
May 21 (Friday), 2021
Time: 6.30 PM
Details
Meeting Link

Webinar on "How to Read Scientific Literature & Introduction to MANAV-The Human Atlas Initiative"

Department of Zoology and Botany, Manipur University (MU) & Indian Institute of Science Education and Research (IISER) Pune

February 6 2021

Details
Register
NEWS UPDATE
One Day - Online Workshop on Basic Bioinformatics Tools and Techniques

Bioinformatics Centre
Departments of Botany & Zoology (Life Sciences)
Manipur University, Canchipur

December 14 2020

11 AM to 1 PM

Details
Register
14th Professor Ch. Dhanachand Memorial Lecture Cum International Webinar
Departments of Zoology & Botany, Manipur University, Canchipur
September 17 2020
12:30 PM to 2:30 PM
Details
Register
LIVE WEBINAR SERIES-VIII to X: Rich yet Unexplored: Research and Technology Resources of North East India
Departments of Zoology & Botany, Manipur University, Canchipur
August 26 2020
Details
Register
LIVE WEBINAR SERIES-VII "Post COVID-19 Pandemic: Horticultural Crops in Value Economy"
Departments of Zoology & Botany, Manipur University, Canchipur
August 4 2020
Details
Register
Photo Gallery
National Webinar on Emerging Frontiers in Biological Sciences(EFBS, 2020)
Departments of Botany & Zoology, School of Life Sciences, Manipur University
20-21 July 2020
Details
Register
Photo Gallery
Managing COVID-19: Research and Clinical Perspective
Departments of Zoology & Botany, Manipur University, Canchipur; Mangolnganbi college, Ningthoukhong & Moirang college, Moirang
10 AM, June 13 (Saturday), 2020
Details
Register
Live Webinar: Manipur - A Paradise for Herpetology with snakebite problems
Centre for Biodiversity Studies, Departments of Botany & Zoology, Manipur University. In collaboration with Mangolnganbi College, Ningthoukhong, Moirang College, Moirang & Society for Nature Conservation, Research & Community Engagement, West Bengal, Catalyzed and supported by Manipur Biodiversity Board (MBB)

June 5, World Environment Day,2020

Details
Register
* Date 11/01/201: One Day National Seminar on Dying of Tree Bean (Yongchak) in Manipur: Remedies and Steps Toward Conservation on 16/01/2021
* Date 03/03/2020: BEEKEEPING and REARING OF INDIGENOUS CATFISH (Ngakra) on 14th to 16th March 2020